I was digging around in my bit box for some things. Way down at the bottom of it, I found some 15mm(ish) vehicles. I don't remember where they came from. I'm thinking they were from a car hauler that I used for another project, or maybe they came in an E-Bay purchase I got many moons ago. Anyway, I remember throwing them in the bit box, because they looked bad and I couldn't use them; cheap looking, the tires were WAY to small, and I was doing 20mm at the time.
With my current emphasis on 15mm in mind, I dug them out to see if I could come up with anything. The tires; the tires were still a problem. I looked around a bit more and came up with a solution. I cut the wheels off some of the left over, out of scale vehicles from my
previous vehicle project
and replaced the tires. It worked better than I imagined it would. So, here I am with some rather unique 15mm vehicles; an extended cab pick-up, a VW Beetle, and Jeep Commander looking SUV:
Additionally, there was a truck that was missing the glass, for some reason. I mulled ideas around and came up with this; a burned out vehicle: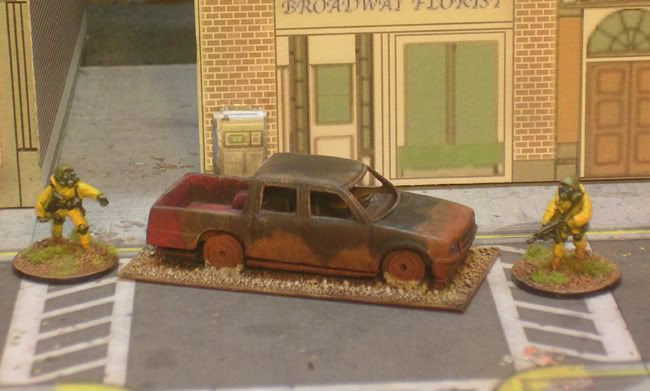 Those are the original tires, painted to look like rims.