Soon, my Lazarus campaign will move into the suburbs of the city. I have nothing built, as far as terrain goes, for that setting. I have about 5-6 different style paper house I can build, to give my neighborhoods some variety. So, that's not a problem. The issue I have is capturing the real feel of a US suburb.I could just plop my houses down on a green table top, but that would just look weird. Drive ways are the answer. How do I model them in an easy and durable manner that, though? I searched the web and found what I think is a great solution; roofing shingles!
I took a shingle, left over from my house being re-roofed. I traced out the shape I wanted and cut it out. Use a cheap utility knife, as these things will ruin an Xacto blade in a heart beat. I then used wood glue to affix the paper and foam board house to the BACK SIDE of the shingle. I painted the area around the edge brown and glued static grass to it. I dry-brushed the areas that would be concrete grey and then painted in expansion joints. I used green scratch pads for hedges and even made a little flower bed. Here's the results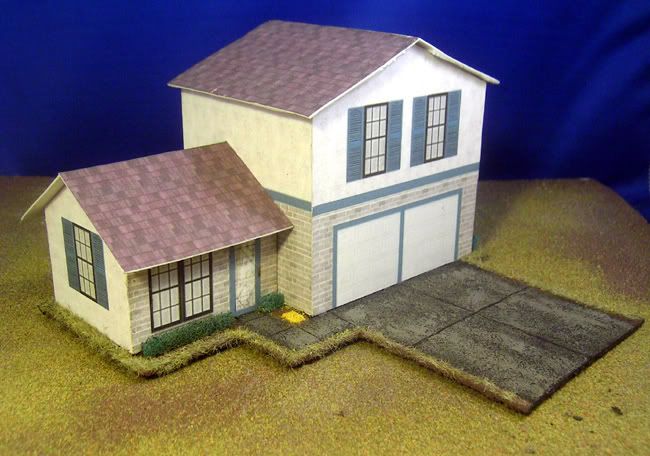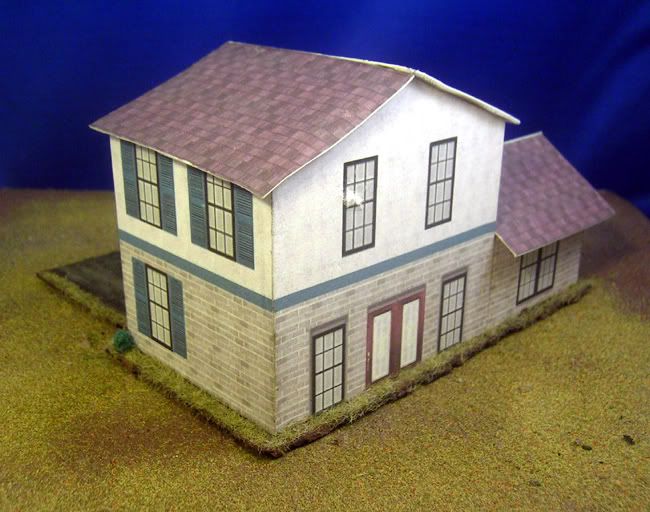 Here's an action shot with minis and vehicles for scale: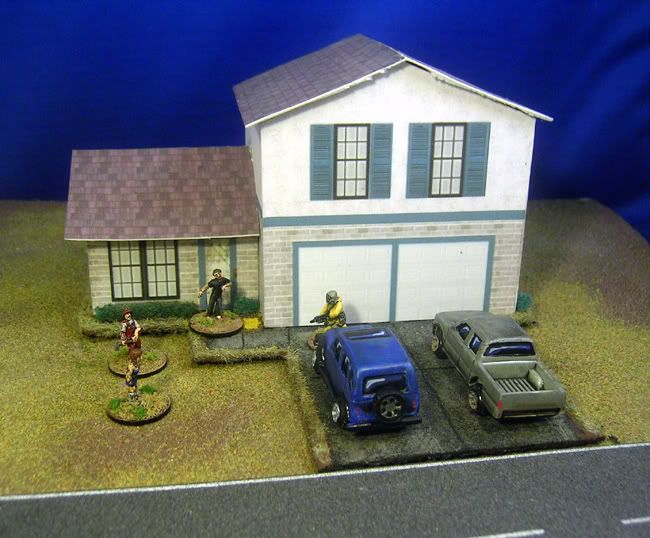 Going forward, here is what changes I am making to the process:
The driveways need to be longer, so two vehicles can be parked tail to nose in them.
Add back patios to the bases
I am going to lightly over-spray the base with grey primer, so I won't have to dry brush. That'll lighten the color up, as well.
Paint the edges brown BEFORE gluing the houses on.
Find, or build AC units, satellite dishes, etc to add detail
I am going to use shingles for my suburban roads, as well.