This is the last batch of the current Acheson Creation figures that I have on the workbench. Out of the three sets I bought, this is by far my favorite one. All four of the minis are good sculpts. Their equipment is easily identifiable and is a mix of Army surplus and law enforcement. The uniforms could easily pass for late 80's/early 90's BDUs; even though I painted them up straight olive drab: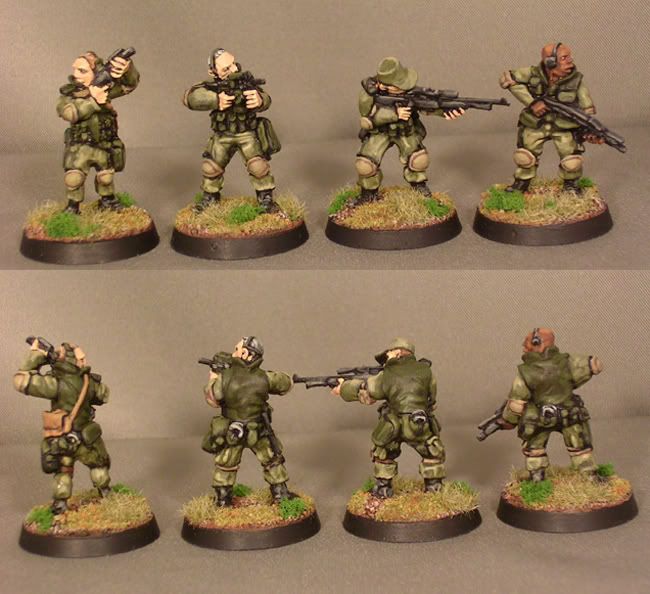 Starting from the left, the first figure is armed with an M-79 grenade launcher. The next figure has a P90 style SMG. The third figure is armed with a bolt action long rifle, complete with folded bipod. Finally, the fourth figure is armed with what looks like a SPAS12 combat shotgun. All the figures are equipped with old M17A2 gas masks and on their hips. They are all wearing 1980's style flak vests, and knee and elbow guards, as well. These figures could just as easily fit into a crime scenario, as a SWAT Team as they would a Post Apoc one.
Like I said, these are my favorite out of the three sets I recently purchased from Acheson Creations. Now its time to to scrape together some money to get some more from their ATZ line.
---
On a side note;this has been a good exercise in photography and Photoshop, even if it hasn't turned out the best, so far. Thanks to my lighting, the color of the minis, and the back ground, I can't seem to get a picture that shows both the color of the flesh tones and the greens. I can get one, but not the other; the photo above is somewhere in the middle. I've tried different backgrounds and playing with the RGB properties in Photoshop. Nothing has worked. I'm gonna plug a way and see if I can get better pic; somehow.